Stand-Up Paddle Board Rentals
This summer, why not try out stand up paddleboarding? We offer you an opportunity to explore the lakes and rivers of Ontario in a completely different way! Our professionally maintained stand-up paddleboards will ensure that you and your group of friends will experience an adventure of a lifetime. Our SUP boards are made by Surftech, Bic Acs, BluWave and Naish. Rent a stand-up paddle board for an hour, day, weekend or a full week and head out anywhere in Ontario to experience what many have already experienced with this fast-growing sport, also known as SUP. Where will you be SUPing this summer?
Start your Weekend Early:
Pick up your SUP rental starting on Thursday after 3PM and pay only for Saturday and Sunday (weekend rate)
Drop off your stand up paddle board either by Sunday evening or by noon on Monday (without any late fees, excludes long weekend)
Stand-Up Paddleboard Rentals:
Note: All SUP rentals include: Paddle board, PFD, adjustable paddle, SUP carrier foam blocks and straps. Our stand up paddle boards are made by brands such as: Jimmy Styks, JP Young, BluWave, Surftech, Bic Acs, Dawn Patrol, Fanatric Fly and Naish.
Loading a SUP Board on your Vehicle without Racks is Easy: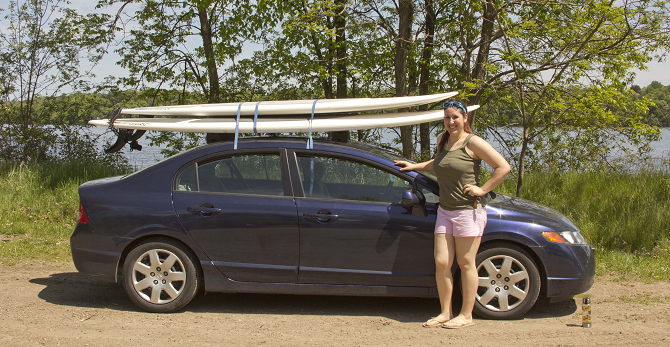 Save these dates for SUP events in Torotno:
Support Aloha Toronto at Cherry Beach on Sun, August 20, 2017. For more information visit Aloha Toronto.