Sea Doo / Jet Ski Rentals
PLEASE NOTE: We are not on the water, nor do we deliver for a day use.
To rent from us you will need a towing vehicle that has a hitch installed.
Pick up is from our location in Vaughan!
Thank you!!
This summer, why not jet ski at the lake? Exclusive Sport Rentals offers you an opportunity to explore the lakes of Ontario in a completely different way! Our professionally maintained personal watercrafts (PWC) include Bombardier Sea-Doos and Yamaha WaveRunners will ensure that you and your friends experience the adventure of a lifetime. All of our Jet Skis, Sea Doos and WaveRunners have the power, control, stability and handling that will satisfy even the most daring of adventure seekers.
So why rent a Jet Ski for an hour at Wasaga beach or at Lake Muskoka, when you can rent a personal water craft for a full day? Rent a Sea Doo for a day, weekend or a full week and head for an adrenaline rush anywhere in Ontario. Note, when renting one of our personal watercrafts, the PWC trailer, full tank of gas and one temporary boating licence are included!
Sea Doo and Yamaha WaveRunner Rental Prices:
Rentals
Yamaha VX 110
Yamaha HIGH OUTPUT
Single Week Day (Mon to Thurs)
$249
$299
Single Weekend Day (Fri or Sat or Sun)
$299
$349
Two Day Weekend Rental (Fri and Sat or Sat and Sun)
$599
$649
Three Day Weekend Rental (Fri, Sat and Sun)
$699
$749
Long Weekend Special (Fri to Tues)
$799
$849
2 Days Mid-Week (Mon to Thurs)
$449
$549
3 Days Mid-Week (Mon to Thurs)
$599
$699
4 Days Mid-Week (Mon to Thurs)
$749
$849
5 Days Mid-Week (Mon to Fri)
$849
$999
6 Days Rental Rat (Sun to Fri)
$949
$1,149
7 Days Rental Rate (Sat to Fri)
$1,049
$1,249
8 Days Rental Rate (Sat to Sat, Sun to Sun)
$1,149
$1,349
Note: Our Jet Ski rentals come with 3 PFDs (life jackets), 2 temporary boaters licenses, full tank of gas and a trailer
Our New Yamaha VX Deluxe High Output: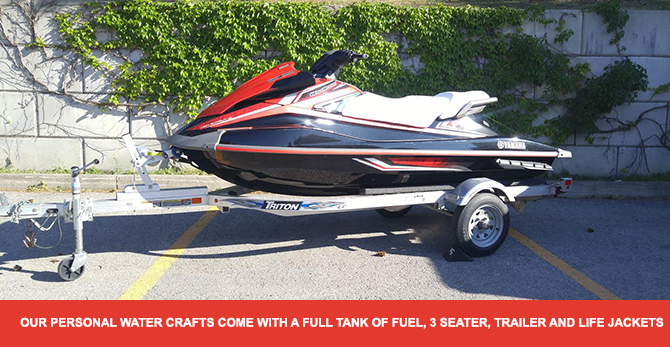 Temporary Boating Licence, Wetsuits, Drysuits, Trailers and Rental Rates:
Hover mouse over the rental to view an HD image of the gear! * Prices are per day and subject to change.
Rental Terms and Conditions:
All reservations must be completed over the phone. You are welcome to use our "Online Reservation Form" and a representative will call you back to confirm the details.
A non-refundable deposit of $150 is required to complete the reservation.
Renting a watercraft is simple, we require the renter to be a minimum age of 21 and to have a valid driver's license.
All of our rental rates shown above don't include HST tax of 13% and fuel consumption.
Jet Ski Cancellations Policy:
48 hours notice is required prior to your rental. Reservations made on the same day of rental are non-refundable.
Refunds:
All refunds will be returned via the method of payment. Credit card refunds may take 3-5 business days to receive funds back. Pre-authorization deposit will be cleared within 5 business days, assuming there are no damages to the Jet Ski.
We can't control or be held responsible for weather conditions. We don't offer a refund policy due to weather conditions, whether it is in the duration of or prior to your rental period. Nevertheless, it is our goal to accommodate you as best as possible.
Weather Related Concerns:
Our number one priority is your safety. In the event of a thunderstorm at your departure time, you will have the option to reschedule. If you are already on the watercraft and it begins to rain while you are out, we can't refund your payment. We are happy to reschedule the remaining part of your time, if scheduling permits. If you are concerned about weather being an issue, please check in advance before making your reservation.
Pre-Authorization Damage Deposit:
All watercrafts require a Pre-Authorized damage deposit of $2,000 that is signed at the time of the rental. The cardholder is responsible for signing the contract, completing a waiver form as well as for any and all payments related to the rental.
Jet Ski Rental Reservations:
For Seadoo rentals in Toronto, please contact us at 1-855-91-SPORT (77678) to reserve your adventure, you may also do so online by sending us an email. Book a PWC and receive a temporary boating licence.
Where to Jet Ski in Ontario:
There are many lakes in Ontario where jet skiing is permitted, but when you plan to rent a Sea Doo from us with your friends or family, you should consider the following destinations: