Our Rental Horror Story
It all began when the two heroes of our story, Daniel and Alex, who decided to rent a jet ski. After some research, we realized that our only option was to rent the jet ski out at a certain marina in Ontario at an absolutely outrageous price of $90 per hour.
Not only were we shocked by how expensive it was (we were planning to use the Jet Ski for at least half a day) but we were also frustrated to learn that we would have to remain within the jet ski owner's line of sight the entire time. After we spent some time debating how far the man could actually see, we quickly realized that our adventure was not going to be as fun as we had originally thought.
We both thought about how cool it would be to take a Sea Doo for a full day on a trailer, and drive it to wherever we wanted, maybe even to multiple places on the same day, without having anyone "supervise" us. Unfortunately, after some research, we realized such an option was not available. We were disappointed to say the least, so we looked at how much it would cost to actually own a jet ski.
It Costs How Much?!
We were quite surprised with the relatively high retail price of a jet ski. As young sports enthusiasts living in Toronto, we concluded that it didn't make any sense to spend thousands of dollars to buy a Sea Doo, Ski Doo or an ATV (add in the cost of storage, regular maintenance and other fixed costs and the dollars really add up). This is especially true when you consider we would really only be using them once or at most, a couple of times during the season!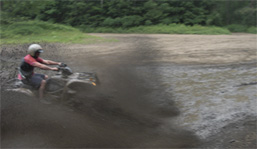 This is how Exclusive Sport Rentals was born in 2011. With a very clear vision that one shouldn't have to be wealthy to enjoy a jet ski, snowmobile, an ATV or any other sports equipment. That taking in the breath-taking trails and gorgeous lakes and rivers that we have in Toronto and Ontario is actually accessible to all simply by renting out ATVs, power boats, snowmobiles, and other ready-to-use sports equipment without having to worry about maintenance and storage.
Not Just For the Pros
The best part is that you don't need to be an expert to enjoy this equipment – our friendly and professional staff will teach you everything you need to know to experience your ultimate adventure while keeping safe and respecting
our environment. So, whether you are a group of friends wanting to spend a beautiful day outdoors, a couple wanting to try something new, a business owner wanting to reward your employees with a day of fun, or a father wishing to spend some extreme quality time with your kids, we have the right sport rentals to make your next adventure truly unforgettable.